Is there a text in this class?
Under the city In the night kitchen Goodnight, Moon
A search at 24 frames per second A search, a phase shift Subliminal, a search, a seizure.
theme q?
What is the best minimalist Tumblr theme that is free? I'd like a new one but I don't know what to choose.
"…[W]ith regard to cognitive science, we're kind of pre-Galilean,..."
– Noam Chomsky on today's cognitive science and the limits of syntax
"[N]ews stories are – and I'm speaking very generally here – more fungible than..."
– Nicolas Carr, on why micropayments aren't going to save news
Don't Indulge. Be Happy. →
Interesting - psychological research validating common sense morality…"[T]here is a measurable connection between income and happiness; not surprisingly, people with a comfortable living standard are happier than people living in poverty. The catch is that additional income doesn't buy us any additional happiness on a typical day once we reach that comfortable standard. The magic...
Finding Jesus in Isaiah
In order to understand who Jesus is, we must understand what He came to do. For this, we can best look to the Servant Songs of Isaiah, for it is with these that He inaugurated His ministry and it is these that were used by the Gospel writers to describe Him in His death. From the Servant Songs, we can see at least seven reasons for Jesus' coming: He came to raise up and comfort the poor...
Should Everybody Learn to Code?
The rise of Scratch (a next-gen Logo, from what I can tell), Codecademy, and Google's App Inventor has everyone talking about learning to code, including, apparently, the Mayor of New York City. Jeff Atwood, creator of Stack Exchange, thinks this a horrible idea. In the case of the mayor, and other adults with non-coding-related jobs, he has a valid point. No one who has a good job already...
Reading transhumanist literature (Tipler, Kurtzweil) and fiction (Accelerando) tonight and thinking: To be human is to embrace finitude. The desire for all knowledge, all pleasure, and all power must be denied us until we are one with our Creator, renewed in righteousness. Unless one envisions a society characterized by widespread repentance all moral science fiction must be dystopian, since...
Captions for an Imaginary Photograph
Boston at the height of spring: The girls walking down Minot St., A young man standing on a porch eating an apple. Petals falling slowly into a still-covered pool
Discipling is personal growth directed toward the formation of Godly character.
Is Facebook Making Us Lonely? →
Not really just about Facebook, actually. I think this is a scary reflection of modern culture: "In 1985, only 10 percent of Americans said they had no one with whom to discuss important matters, and 15 percent said they had only one such good friend. By 2004, 25 percent had nobody to talk to, and 20 percent had only one confidant…In the face of this social disintegration, we have...
An Easter Reflection
Jesus' resurrection is His justification, in the sense of vindication: a public declaration of His righteousness, which He could then graciously grant to us. He was "delivered up for our trangressions and raised for our justification" (Rom. 4:25). And how did Jesus have this righteousness? Through His perfect keeping of the Law for the 33 years of His Law, by which He, and He...
Type Connection →
This is awesome - a dating game for fonts that teaches you principles of good design.
the moon tonight is a crucible of gold set against silver, deepening blue
"He's Calling for Elijah": Why We Still Mishear... →
"[F]rom here on out, whenever we think of Jesus' cry, let's first remember that the beginning is not the end of the story." Jesus died knowing that He would rise again. Jesus died knowing that He would be vindicated by the Father, "justified by the Spirit of holiness that raised Him from the dead." And His justification would become our own - as the unrighteous...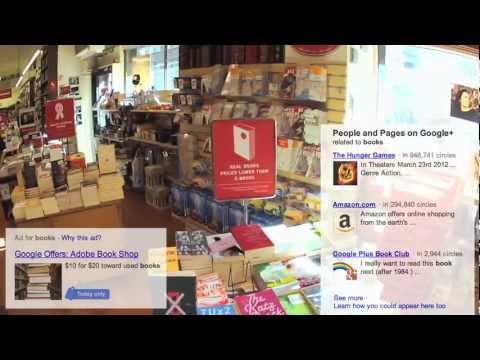 The Prozac, Paxil, Zoloft, Wellbutrin, Celexa,... →
The hidden costs of the war in Afghanistan. Two things we should do: 1. Apply a systems approach to medicine. 2. End the war. There's not a clearly defined enemy we're fighting in Afghanistan anymore. We can't use guns to change a culture.
It is intellectual incoherent to be strictly conservative in a time of rapid change. However, it is equally incoherent to think that we can be progressive in a predetermined direction, as if legislation were the primary driver of that change. If we are to intervene at all, we must seek to find the points of our system that are responsive to change. That will take greater understanding than I see...
"The problems that we face cannot be solved by the same level of thinking that created them." A systems approach is needed. We need to recognize that in our society now everything affects everything all the time. We can't focus on a single line of policy interventions in any of the issues that we face - with the economy, the climate, education, health care, etc. - unless we...
Last night I was at the Boston Federal Courthouse and saw a quote written on the wall, "Justice is truth in action" - a noble sentiment, but dangerous in a democracy, where people's rights are in conflict. The courts will never be the source of perfect justice. From their perspective, it would be better to say justice is the proper balance between conflicting interests.
Stock Photo Mistake →
Somehow I can't feel too sorry for these people. "We signed the release without reading it." Well, when you're signing away all your rights to an image of yourself, you shouldn't complain about the uses to which it is put…as long as they're not identifying you personally.
The Curation Debate →
In the future of journalism, how will people (and brands) get credit for their work? It's an ever-debated question, but this article is fairly insightful.
Dear Christian women, Sometimes men are oblivious. It's not un-Biblical for you to clue them if you're interested in a relationship. I think the whole "waiting in a tower for my prince" mentality that's been perpetuated in many Christian books on dating is one of the most damaging things that's happened in recent years.
"I'm going to tell you something that my Republican friends are loath to admit..."
– Shawn Lawrence Otto | A Message from a Republican Meteorologist on Climate Change (via ayjay)
The Atlantic Monthly editorializes that people are "stupid" for being confused about what the health care bill actually does. Well, considering that lawmakers passed it largely without reading it, and only started finding some of its provisions after the fact, I don't think their confusion is surprising. And it's certainly not stupid.
What the Wall St. Protesters are Angry About →
These are some interesting graphs about unemployment, etc. Whether the government or even "corporations" could actually fix most of these systemic problems in any kind of timely fashion is debatable, though.
Worst Powerpoint Slide Ever →
Still looking for a reason why the US should get out of Afghanistan? Perhaps you will find it on this slide.
The Billion Dollar Gram →
Bit of an agenda here (for one thing, I doubt that throwing money at some of these problems would really solve them), but still an eye-opening visualization.
George Will says that no one knows how to deal with the social pathologies caused by mass incarceration. Well, what about the racist and unjust drug sentencing laws that have put many of those people in prison?
Ross Douthat Explains Why the Republican Party...
From early 2011 onward, the media have overinterpreted [the] sifting process [between Republican primary candidates], treating every polling surge for a not-Romney candidate almost as seriously as an actual primary result. They might nominate Herman Cain! They might nominate Michele Bachmann! Why — they might nominate Donald Trump! ~"The Responsible Republicans" Why has the media...
Fun at Congressional Hearings
"If Dick Cheney were elected president and wanted to detain and incessantly waterboard every American who sent an email making fun of his well-known hunting mishaps, [could he do it?]" Apparently the answer is no.
All religions may be different paths up the same mountain; the problem is none of us could make it to the top. The Incarnation of Jesus Christ shows us that the purest Being is not found in transcending earthly limitations, but in oneness with Him who bore our sins on the Cross.
Africa's Amazing Rise and What It Can Teach the... →
What has contributed more to Africa's development than all the foreign aid combined? The mobile phone.
1 tag
Someone should create a Drupal blogging distro as elegant as Tumblr. It's not impossible - just would require a shift in thinking.
Lots of discussion on New York Times website about the demise of Britannica. Several people write that they will miss the serendipity of print, or that search boxes do not encourage wonder. I find that criticism poorly founded, having researched the structure of Wikipedia for my college thesis several years ago. The internal links within Wikipedia articles make them an dense tissue of connected...
Of dead trees, living networks, and encyclopedic... →
The end of the Britannica era marks the shift from knowledge as hierarchy to knowledge as network. I would be interested to see if there are tools to visualize the emergent structure of Wikipedia, just as there was the Propedia to systematize the editor-controlled structure of Britannica. (HT: ayjay)
"Each new day begins at 6am."
– parking sign
The Incarnation lies at the root of Christianity's mystery and power. God became man - in no other religion is this believed. If we are to witness to others about Jesus' death & resurrection, human sin & salvation, we must ensure that those to whom we speak understand what we mean by the Incarnation.
We say Jesus died for our sins, and rightly so. But He also died for our shame. He died for us as sinners and as those sinned against, bearing in His body the cost of reconciliation.
We as evangelicals must be careful to offend people only with the exclusivity of Christ, not the exclusivity of our church - as if we were ourselves the source of truth and not simply those who have been caught up in it, and saved by it.
When I Was a Child I Read Books: Review of... →
"[R]eligion itself often colludes with the ill-conceived critique [of the New Atheists' reductionism], betraying its highest vision with sound-bite answers to genuinely open questions." True.
"In the multitude of my thoughts within me, Thy comforts delight my soul."
– Psalm 94:19
Well, I think I've finally gotten used to Gmail's new look. Still think they erased a few too many lines though.
Rearranging the Branches on a New Tree of Life →
This article makes me wonder, how do creationists explain cladistics? Not to be critical; I sincerely want to know.
Abraham Maslow and the All-American Self →
Algis Valunis describes Maslow's hope: Certain people just shone as exemplars of wholeness, intensity, virtue, achievement, and delight; Maslow was left wondering what an entire society led by such men and women might achieve. It would become Maslow's life's work to describe such people, to explain their excellence, and to spread the word to the multitudes that this richness was in fact...